Bill Thomas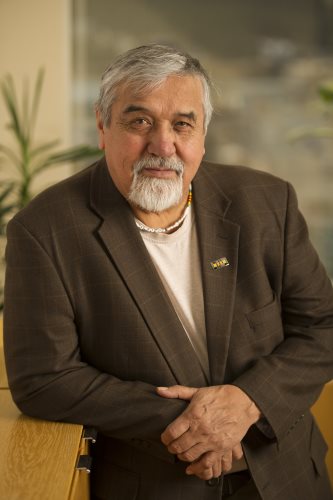 Bill Thomas serves as the Finance Committee Chair. He's an accomplished businessman and politician. He represented Alaska House District 5 from 2004–2012 and is a commercial fisherman. His distinguished career includes military service in the Army during the Vietnam War.

"It's a privilege and honor to serve on the board, representing the owners of Sealaska. Sealaska continues to make changes and I'm happy to have helped in the long-term planning. I come from a small community, Haines and Klukwan, an important voice to have heard in the boardroom."

Bill is Yéil (Raven), Gaanaxteidí (Whale House) from Haines/Klukwan. He lives in Haines, AK.

---
Bill's Proxy Statement
It is a privilege and honor to serve on the Sealaska Board of Directors representing you, the owners of Sealaska. I have served for 9 years, and would like to continue to serve. I'm considering that this might be my final re-election effort, unless there are requests for me to continue. Sealaska continues to make changes and I'm happy to have helped in the long-term planning. We are successful and I'm hopeful we will continue on this path. I come from a small town (Haines) and village (Klukwan). People are migrating out of smaller towns and while I respect their decisions, it is important to have the smaller towns' voices heard in the boardroom. I have been fortunate to be a commercial fisherman for 49 years which allows me to remain home. I served eight years in the Alaska State Legislature and of those, served six years on the Finance Committee plus two years as House Finance Committee Co-chair. Some legislation I helped sponsor while in the Legislature are Pick, Click, Give; renewable energy projects; and prohibition of texting while driving. I've been married to my wife, Joyce, for 40 years. I ask for your continued support, thank you.

AGE: 70
CITY/STATE: Haines, Alaska
OCCUPATION: Self-employed commercial fisherman and lobbyist in the State of Alaska
CURRENT AND PREVIOUSLY HELD POSITIONS WITHIN SEALASKA CORPORATION AND/OR SEALASKA SUBSIDIARIES: Sealaska Director since 2009 and serves as chair of the Sealaska Finance Committee and is a member on the Audit Committee and Shareholder Relations Committee. He also serves on the Haa Aaní, LLC Board of Managers. Former member of the Sealaska Government Services Board of Managers.
DIRECTORSHIP(S) HELD IN OTHER ENTITIES: None
EDUCATION: Graduate of Haines High School and attended the University of Alaska.
AFFILIATIONS: Vietnam Veteran serving 'in country' in 1968, member of the Central Council of the Tlingit and Haida Indian Tribes of Alaska, the Chilkoot Indian Association, Alaska Native Brotherhood, the Southeast Alaska Fisherman's Alliance, and lifetime member of the United Fishermen of Alaska and the American Legion. He is a former representative for House District 5, Alaska State Legislature. Bill is Gaanaxteidí of the Whale House and Dleit káa yádi (child of).