Barbara Cadiente-Nelson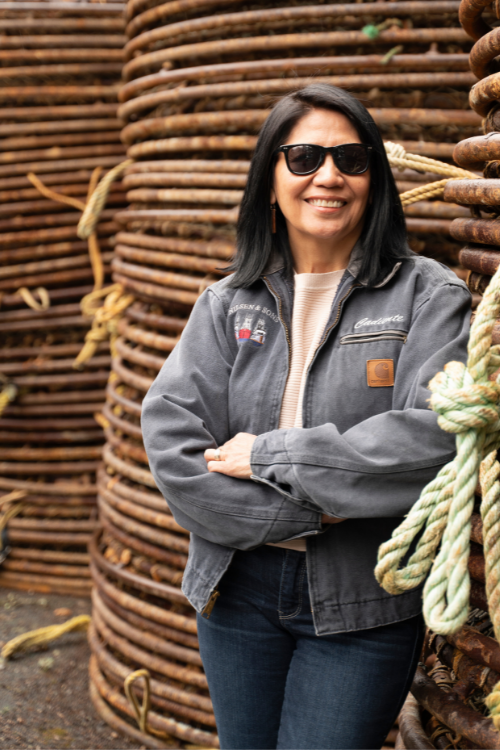 For too long we have bore witness to abuses of power: migrant children torn from family and detained; deadly forces of racism against our Black brothers and sisters; armed defenses against indigenous-led protestors, and a violent threat to overthrow the democratic process of choosing our country's leaders.
This storm swept us into the wake of the COVID-19 pandemic, causing seclusion, sickness, suffering, and loss.
What is to become of us? Our children?
These troubled waters demand a response — to unite, to stand with, to be purposeful, to know and do what matters.
Hél unalé
. Almost.
Ha'wałga dip di 'waat
. We haven't gotten there yet.
Tluwáay kyáanggeilgang
. The boat is coming into view.
Wooch.een yei jigaxtoonei!
We are going to work together to reach safe harbor — alongside Tribes, Veterans, Landless, cultural language bearers and community leaders — to achieve shareholder priorities: education, employment, language restoration, and ultimately, to take care of our waters and
Haa Aaní / Łitl' Tlagáa / Na Yuubm
–OUR LAND.
Fortunately, through integrity and disciplined leadership, Sealaska businesses are growing exponentially; providing us resources to be a "force for good."
Haa Too Yei Yatee!
It is in us!
I ask for your vote of confidence.
Gunalchéesh. Agyamanak. Háw'aa. T'oyáxsut 'nüüsm.
View Director Barbara Cadiente-Nelson's full proxy statement
here
.
Learn more about Barbara Cadiente-Nelson on the
Sealaska Facebook
page.