Corporate Social Responsibility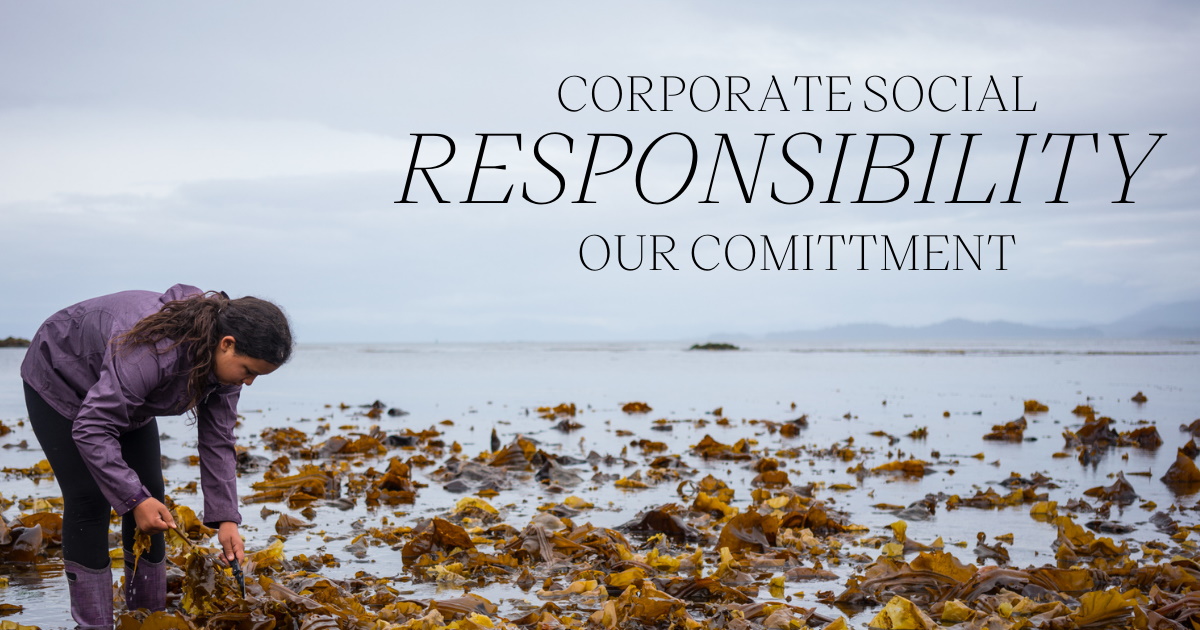 Making a difference for people and planet
Values of respect, balance and working together form the foundation of our business. . We aim to give, not simply take – and we want to give more than we take. Sealaska is a community-owned, community-focused, values-based business where both people and planet take priority.
We all feel the impact of a changing climate, no matter where we live. In Alaska, the effects are profound – and they are happening before our very eyes. Our people can see our glaciers receding, our waters warming, our fish populations diminishing, our villages sinking into the ocean, our icecaps melting and hunting grounds shrinking. Our planet is at stake, as is our traditional way of life. We feel a deep responsibility to act – and act now – to help turn the tide for our planet
and for our people
.
We believe that protecting and preserving our environment isn't just a moral or cultural imperative – it is smart business. And our business is a platform to change the world. For us, that starts with oceans.
Ocean Health
Global health – the health of our loved ones, our neighbors and ourselves – is undeniably and inextricably interwoven with the health of our oceans. More than half the oxygen we breathe comes from marine photosynthesizers. Oceans have absorbed 90% of the excess heat caused by man-made warming. Nearly two billion people worldwide, including in Southeast Alaska, rely on seafood as a primary source of protein. And yet the integrity of our waters is increasingly at risk. Reliance on land-based farming and fossil fuels is increasing the temperature, acidity and pollution in the world's oceans at rates that will radically alter marine life – and everyone's lives – unless we see a massive transformation in human behavior.
We are committed to leading change, inspired by millennia of environmental stewardship. Our science-first approach focuses on two separate, but tied, core businesses – Sustainable Seafood and Hydro Sciences – that collectively work to improve our environment while driving business growth.
Sustainable Seafood
Eat fish, save the planet.
Making the switch to sustainable seafood is one of the best things we can do for our oceans. Land-based farming is gobbling our land and polluting our water. Half the world's habitable land is currently being used for traditional agriculture, which also accounts for 70% of global freshwater withdrawals. Wild seafood has one-fiftieth the carbon footprint of beef and far fewer carbon emissions. It requires eleven times less water and does not contribute to deforestation or ocean pollution. Eating more fish is part of a healthier lifestyle – and part of a healthier planet.
We are committed to:
Building a consumer-driven business that enhances people's lives with delicious, low-impact food from our oceans
Increasing the consumption of seafood per capita by recognizing and addressing emotional and societal barriers
Using state-of-the-art facilities in Seattle, Juneau, London and Grimsby to sustainably manage and process more than $500M of seafood products annually
Sourcing seafood from 40 countries and working only with responsibly-managed fisheries, where ocean health, sustainability, and fair industry practices are prioritized
Maximizing efficiency to optimize quality while eliminating waste
Hydro Sciences
Our commitment to ocean health doesn't stop with seafood.
Sealaska is also rapidly growing our expertise in hydro sciences, expanding our understanding of the science of climate change – and how our scientific and engineering savvy can best serve to combat it. We study the challenges that face our waters, learning how to best utilize our resources to help clean up ocean pollution and support clean energy development. Our work in ocean-based construction, geology, hydrology and offshore development means our businesses are positioned at the forefront of green energy solutions.
We are committed to:
Protecting ocean and water health as it is undeniably critical to human life through innovation and creativity
Growing our team of subject matter experts to build, test and deploy new, autonomous tools to drive industry change
Leveraging our scientific expertise to work in the most challenging oceans and waterways
Always being led by the science to discover new ways to solve old problems
Turning the tide
Where there is water, there is life. Our people have been stewards of the lands and seas of Southeast Alaska since time immemorial. We draw on thousands of years of Indigenous wisdom and resilience – coupled with modern science and technology – to guide our business. Sealaska leads with the guidance and vision of our people, hearing science and Indigenous wisdom both. Working toward cleaner oceans means working toward a vision for tomorrow that we believe in. Our path forward is to invest in work that helps restore balance to our lands and oceans, combatting the challenges of a changing climate. Our oceans nourish us, as they always have. And it is our responsibility to turn the tide.