Board Youth Advisor Program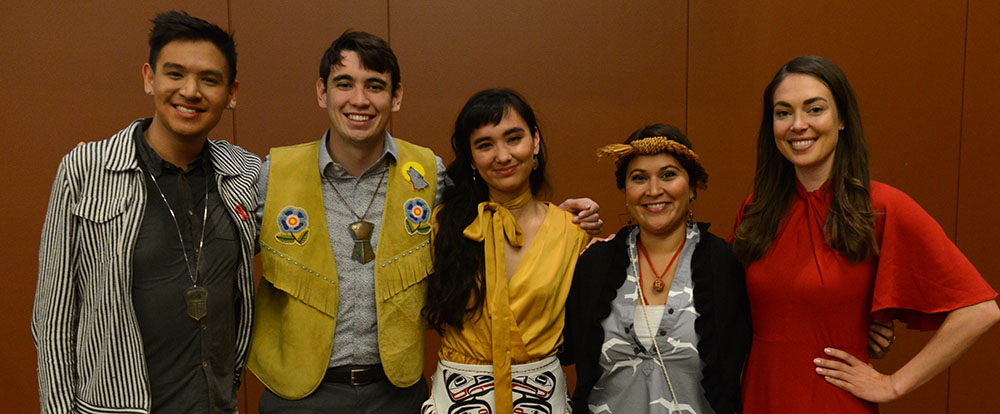 L to R – David Russel Jensen, Aidan Hellen, Maka Monture Päki, Barbara Blake, Alyssa London - all former Board Youth Advisors
Helping our people reach their full potential is important to Sealaska. We are proud to help unlock that potential and prepare our children to lead a thriving region and economy.
The Board Youth Advisor position was created in 2009 to cultivate this skill set among Sealaska shareholders and descendants. At the time, directors recognized that voices of young leaders were missing from discussions and decisions in Sealaska's boardroom.
Each year, two Board Youth Advisors are selected from a pool of applicants for staggered two-year terms. During the term, Board Youth Advisors share their perspective in board and committee meetings. In turn, they receive valuable insight and training on board processes and procedures. The position is an opportunity to develop professional networks and a broad outlook on the issues and opportunities faced by Tlingit, Haida and Tsimshian people and the Southeast Alaska region.
Key Highlights of BYA Application
Deadline | March 27
Qualifications

Active in Native community
Engage in cultural activities
Have current or prior work experience

Eligibility

18-25 years of age
Hold at least one share of Class A, B, C stock and/or own Class D stock
Two years or work experience or two year of college, junior college
A History of Sealaska Board Youth Advisors
2009 — 2010 Megan Gregory
2010 — 2011 Barbara Blake
2011 — 2012 Ralph Wolfe
2012 — 2013 Madeline Soboleff-Levy
2013 — 2014 Alysha Guthrie
2014 — 2015 Alyssa London
2015 — 2016 Barbara Dude
2106 — 2017 David Russell-Jensen
2017 — 2018 Nicole George
2018 — 2019 Aidan Hellen
2019 — 2020 Maka Monture Päki
2020 — 2021 Michaela Demmert
2021 — 2022 Tia Silva
2022 — 2023 Connor Ulmer
Download the application below, and submit on or before
March 27
.
BYA Application 2023