Sealaska Student Sponsorship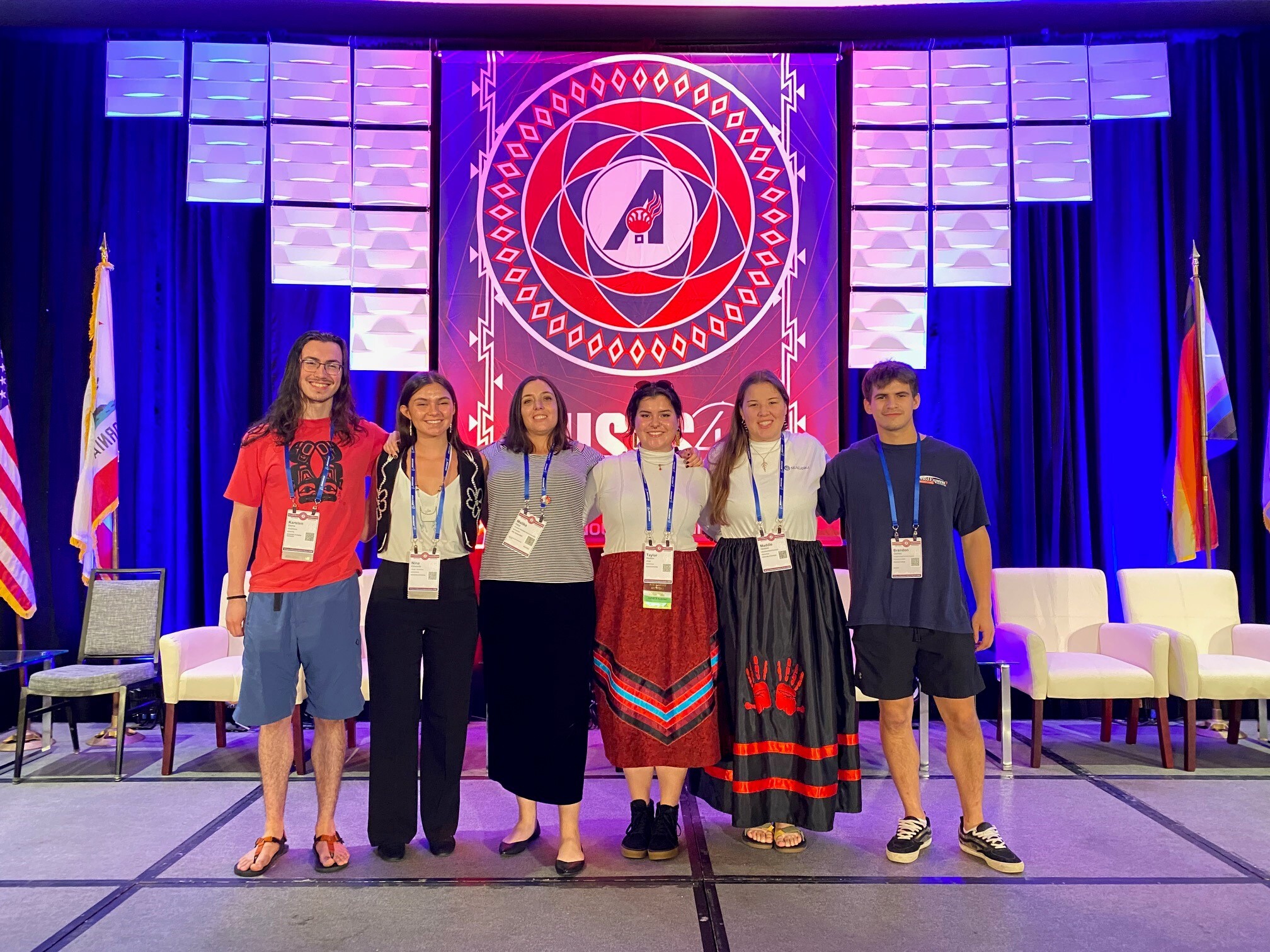 Sealaska sponsored college students at AISES 2022 National Conference
Sealaska is providing opportunity for students to experience education enhancement and career development outside of the classroom!
Apply to be a Sealaska-sponsored student to attend events that give access to career paths and inspiring networks.
Our sponsorship criteria vary by opportunity. In general, sponsorship stipulation includes:
Must be a Sealaska shareholder or descendant of a shareholder
Must be a current student
Must be at least 18 years old
Be prepared to provide a resume, unofficial transcript, and short application essay
See current open opportunities below.
AISES 2023 Leadership Summit – SPONSORSHIP APPLICATION OPEN
Apply for sponsorship to the American Indian Science and Engineering Society (AISES) Leadership Summit! This annual two-day gathering is designed to equip Indigenous science, technology, engineering, and math (STEM) students and leaders with the knowledge, tools, and wisdom to succeed within the organizational structures in their work or academic lives.
Through sessions and workshops, Leadership Summit participants learn how to fulfill their potential as leaders as they pursue their career and academic goals. We invite you to join us and experience an innovative leadership development program that incorporates relationships, collaboration, and cultural foundations that will inform and support the unique leader in you.
The 2023 Leadership Summit is April 30 – May 2, 2023 at River Spirit Casino resort in Tulsa, Oklahoma.
Students who wish to attend the conference must be an AISES member, which is free for students! Become a member here:
www.aises.org/membership
Sponsorship criteria:
Sealaska shareholder or descendant of a shareholder
Current post-secondary student
Must be at least 18 years old by the conference date (April 30, 2023)
Complete the application by the deadline of Tuesday, February 28, 2023, including submitting a resume, unofficial transcript, short application essay, a letter of recommendation, and AISES membership number
The Sealaska team will review completed applications after the deadline and select students to sponsor. Selections will be made based upon the students' personal essay (demonstrates commitment, goals, leadership capacity), academic performance (demonstrates willingness to learn and to overcome, if relevant), and other activities the student has undertaken (jobs, volunteering, internships, extra-curricular, etc.)
Sponsorship includes lodging for 3 nights on April 30, May 1, and May 2, 2023. Students' travel days will be Sunday, April 30 and Wednesday, May 3.
Once an award is made, AISES will contact the sponsored students and:
Purchase roundtrip airfare;
Make hotel accommodations (students will be assigned a roommate); and
Send awardees instructions and a complimentary Leadership Summit registration code.
Sealaska Program Manager Kayla Roberts will be attending the conference as an advisor/host for the Sealaska-sponsored students. Sealaska will provide $175 to sponsored students to help cover incidental costs. Ground transportation, baggage fees, meals, parking, and incidental expenses are the sponsored travelers' responsibility. Any additional travel costs that are greater than the award amount is also the responsibility of the student. Please contact Kayla at
kayla.roberts@sealaska.com
with any questions.
APPLY by Tuesday, February 28, 2023, at 11:59pm PST
---
Notification Process:
A Sealaska team member will notify the students with complete applications about award decisions in early March 2023. Students that are awarded sponsorship will be contacted by AISES staff to complete an award package that must be completed. Students who do not accept the award by March 31, 2023, will have their sponsorship forfeited.
The online application process has closed