Student Sponsorship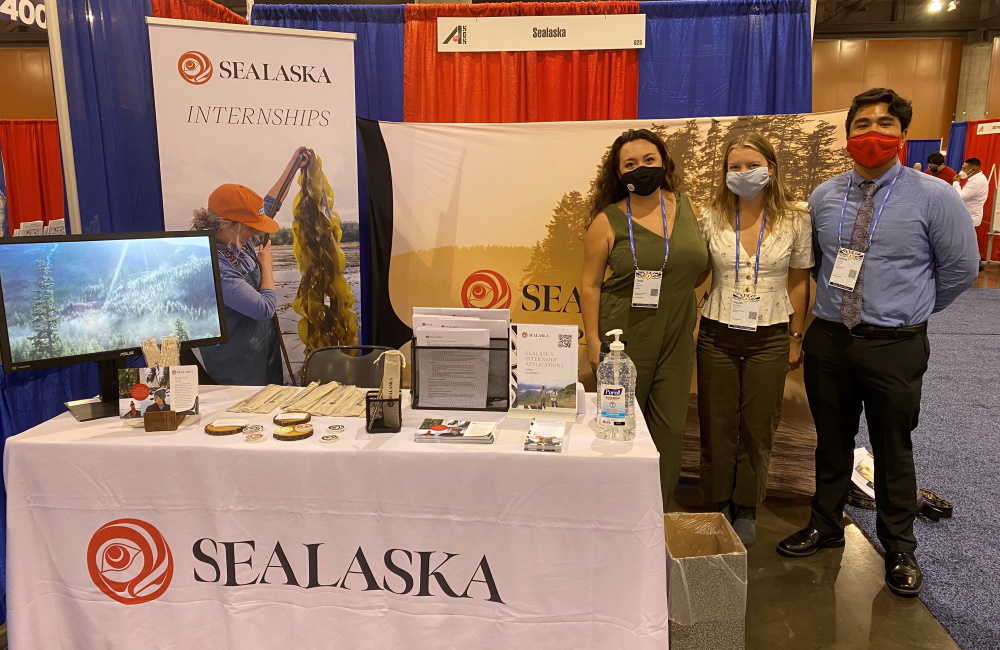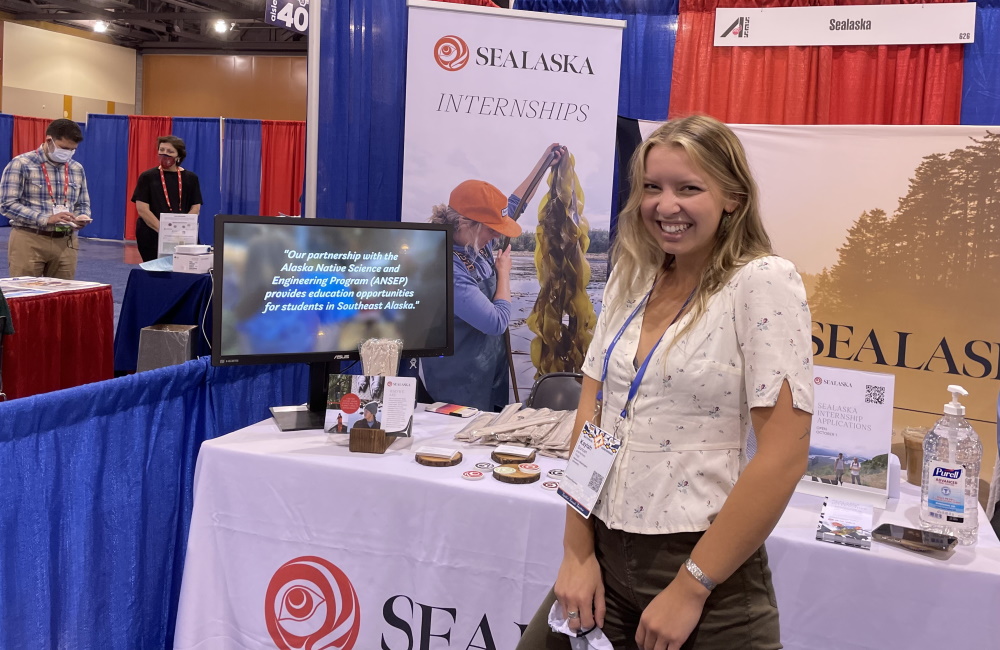 Josh Quinto and Kaylah Duncan at AISES 2021 National Conference with Sealaska's Tesla Cox
Sealaska is providing opportunity for students to experience education enhancement and career development outside of the classroom!
Apply to be a Sealaska-sponsored student to attend events that give access to career paths and inspiring networks.
Our sponsorship criteria vary by opportunity. In general, sponsorship stipulation includes:
Must be a Sealaska shareholder or descendant of a shareholder
Must be a current student
Must be at least 18 years old
Be prepared to provide a resume, unofficial transcript, and short application essay
See current open opportunities below.
AISES 2022 National Conference – Sponsorship Application Is Now Closed
Apply for sponsorship to the American Indian Science and Engineering Society (AISES) National Conference! This annual three-day event focuses on educational, professional, and workforce development for Indigenous peoples in science, technology, engineering, and math (STEM) studies or careers. The conference also includes the largest college and career fair for Indigenous students and professionals. Exhibitors at the College and Career fair represent a diverse range of corporations, educational institutions, government agencies, nonprofit organizations, Tribes, and Indigenous-owned businesses. Sealaska is a sponsor and exhibitor at the AISES National Conference and will be recruiting for various opportunities for students.
We invite you to apply for the opportunity to grow in your networking skills, meet other Indigenous students in STEM fields, and learn from specialists in a variety of workshops and events. The AISES National Conference is October 6-8, 2022, at Palm Springs Convention Center in Palm Springs, California.
Students who wish to attend the conference must be an AISES member, which is free for students! Become a member here:
aises.org/membership
Sponsorship criteria:
Sealaska shareholder or descendant of a shareholder
Current post-secondary student
Must be at least 18 years old by the conference date (October 6, 2022)
Be prepared to provide a resume, unofficial transcript, short application essay, 1 letter of recommendation, and AISES membership number
Must commit to attending the entire conference, including travel days
Sponsorship includes:
Conference registration fees
Round-trip economy class flight (arrive October 5, depart October 9)
Lodging during the conference (same-gender roommate will be assigned)
Sealaska Program Manager Kayla Roberts will be attending the conference as an advisor/host for the Sealaska-sponsored students. Ground transportation, baggage fees, meals, parking, and incidental expenses are the sponsored travelers' responsibility. Some conference meals will be provided as part of the registration. Please contact Kayla at kayla.roberts@sealaska.com with any questions.
THE APPLICATION PROCESS IS NOW CLOSED